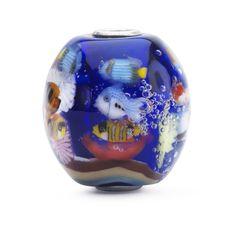 Let it stir your heart and fuel your imagination. The Blue Ocean is a place of life and true beauty.
This is a Limited Edition release. Limited Editions are rare or unique beads which are only released in very small quantities.
Please note: Glass is a fantastic material. Each glass bead is handmade from red-hot Japanese glass in the open flame with no two glass beads ever being completely alike. This goes for size, coloration and pattern. Your bead is absolutely unique and may have slight variations from bead pictured. Due to the size of this bead, it is not recommended for bangles.
The price is for the bead only.