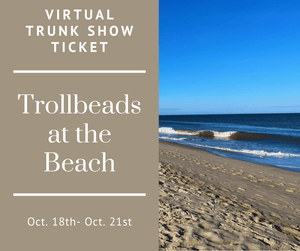 Blooming Boutique Presents Trollbeads At The Beach Trunk Show
Online Event Ticket 
Location:
 

www.BloomingBoutiqueBeads.com

 

(a special access code will be e-mailed to you). 
Festival Dates: October 18th - October 21st, 2023
Closed Website Dates: October 18th at 10:00 am - October 19th at 6:00 pm
Exclusive products will be posted on the closed website on October 18th-19th.  A special code to the website will be e-mailed to you after purchasing the ticket (please allow a few hours for us to send you the code).  Do not share this code with others. 
And did we mention beads?  Thousands of Unique beads will be on hand for the festival as only the LARGEST Trollbeads dealer in Mid-Atlantic Region can do! Generous quantities of catalog beads will also be available.
Exclusive sales are available for attendees only!  
This is a NON-REFUNDABLE Ticket. 
Shipping only valid to US residents.