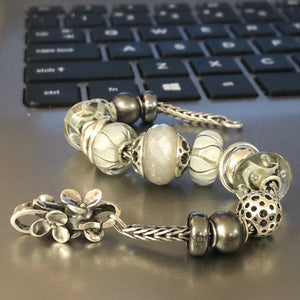 The Nature Art collection is so much fun for Spring!  This bracelet features the many shades of grey (not quite 50 haha!).  We love how the oxidized silver stoppers pair with the peacock pearls which vary in shade, we selected pearls with a grey tone to compliment this design.  Seed pods & Sea Shore pair nicely together keeping a consistent motif throughout the bracelet.    
Design tip: The Sea Shore beads can be used to "frame" a focal glass bead or stone, similar to lotus tops.  However, because these beads are very light, they need a spacer nearby on either side to keep them in place.  On this bracelet, we used the "String Spacer" after the white tulips glass bead to keep those two Sea Shore beads in place around the Grey Moonstone.      
If you love this design and would like to purchase it, please note the glass beads will not be the exact ones shown in the photo.