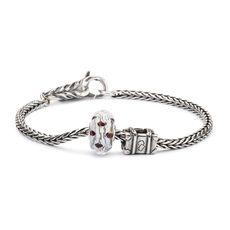 NOTE: The bracelet size includes the length of the clasp (~2cm)
Because you are always with me… Sharing adventures, carrying my burdens, holding my hand.
This Sterling silver bracelet is decorated with the faceted glass bead Polar Dreams and the silver bead Oldschool Suitcase. Fasten the chain with the Foxtail Lock. This piece is a part of the Autumn collection 2018. The beads in the collection are for those who see life as an adventure.
Item No.:

Fellowship Bracelet

Weight: 13.56 g
Main Material: Silver 925